Lifehacks of mobile journalists from F4F International Children's News Bureau Euro2020
Throughout UEFA EURO2020, as a part of Football for Friendship programme, The International Children News Bureau is working: children from 11 countries visit the matches, take photos, take interviews, and also undergo an additional educational course of the Nine Values School. Simply put, they try on the role of a journalist. During this month, they have learned many things and now are ready to share their experience: how to be a sports journalist and make bright reports when you only have a mobile phone in your pocket? World Sports Journalists Day is celebrated on the 2nd of July, so here are a few useful lifehacks from the Young Journalists.
Lola Flohr, 14 y.o., The Netherlands:
«First, use two hands. Make sure you don't move while filming because it doesn't look nice. That is why it is wise to always hold your device with two hands. This provides more stability. In addition, make sure that you do not put your finger in front of the lens. 
Second, choose horizontal or vertical filming. you have to choose: horizontal or vertical. At first, you could only film horizontally, depending on how you gonna use the content because otherwise, you would see black bars on the side when you went to watch this on a computer or TV screen. Now videos are mostly only viewed on smartphones –  Instagram, Tik Tok, or Snapchat and you can film vertically.
So when filming, take into account what you want to use the video for.
But my preference is horizontal. Not only do you get 'more in frame', but you also have the option to crop your video into a different format from your 16×9 (length x width ratio) aspect ratio. This can be 1×1 (square) or even vertical (portrait mode) 9×16. 
Third, choose to get closer instead of zooming. When filming, it is always important to put your subject in the right frame. However, sometimes you want this object closer. By using two fingers, it is easy to zoom in on a smartphone. However, there is a good chance that the quality of the video will deteriorate rapidly.
 And finally, choose the right app. The standard camera app on the smartphone is enough to make a nice video. There are also several apps in the Play Store that offer a bit extra. Also for free.
For example, some apps give you control over focus, white balance, and other options, while other apps let you add filters.
Examples are:
• A Better Camera: get access to all kinds of possible controls and settings, as well as some useful functions such as creating a timelapse.
• Bacon Camera: Take control of focus, white balance, and more.
• Camera MX: Edit in real-time and add filters and effects as you shoot».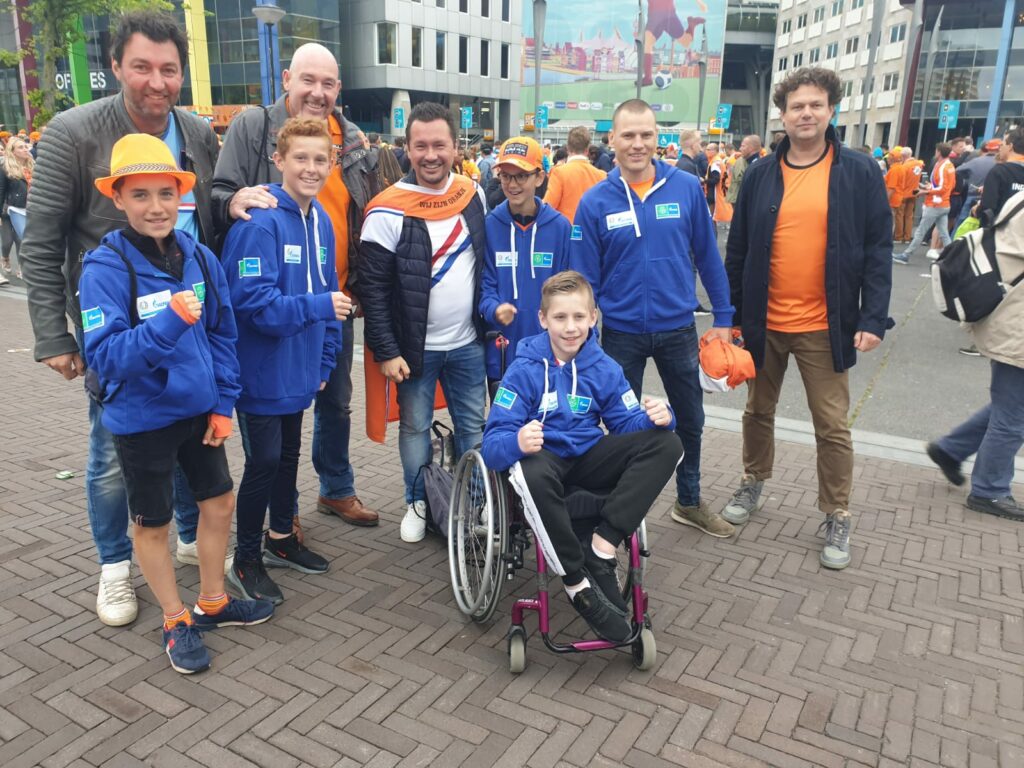 Frej Goossens, 14 y.o., The Netherlands:
«Lifehack 1: Make a WhatsApp group with your smartest friends and ask them for ideas. With their most creative ideas they help you create the coolest content.
Lifehack 2: Use an app like notes to make your notes during the game. It also works great to note your ideas. I make a separate note for every article and make a list with my ideas.
Lifehack 3: Before you make a video, look at your settings if it's of the highest quality. And don't forget to shoot the film in the landscape. In this way, you make it easier for the viewers to watch your video because when you shoot in portrait, the image appears smaller with on the sides black background».
Nijat Taghizada, 12 y.o., Azerbaijan:
Today, I will talk about some life hacks in your phone which will help to create good content. So let's get started:
Lifehack 1
If you are using your iPhone, you can find an app called "Reminders". In this app, you can place a reminder so you don't miss the deadlines of various games. When the deadline comes, the phone will automatically send you a notification about the game, so you don't miss it!
Lifehack 2
If you have an iPhone device, you can use an app called "IMovie". It is an app that can help you with editing your videos about the games. You can add music and more different things. You can even combine videos! This will help you a lot while doing journalistic.
Said Shadiev, 13 y.o., Azerbaijan
Usually, a mobile journalist works alone, so we have to figure out the intricacies of recording in an interview. It takes sleight of hand. Making a clean recording is not that difficult, but it takes a lot of preparation, which means we have the right microphone at hand.
At press conferences, where wires will only get in the way, the best option would be a wireless kit. The closer the microphone is to the source, the richer the sound. Zooming in or out does not make the sound louder. Always have a portable charger on hand so that you don't miss anything.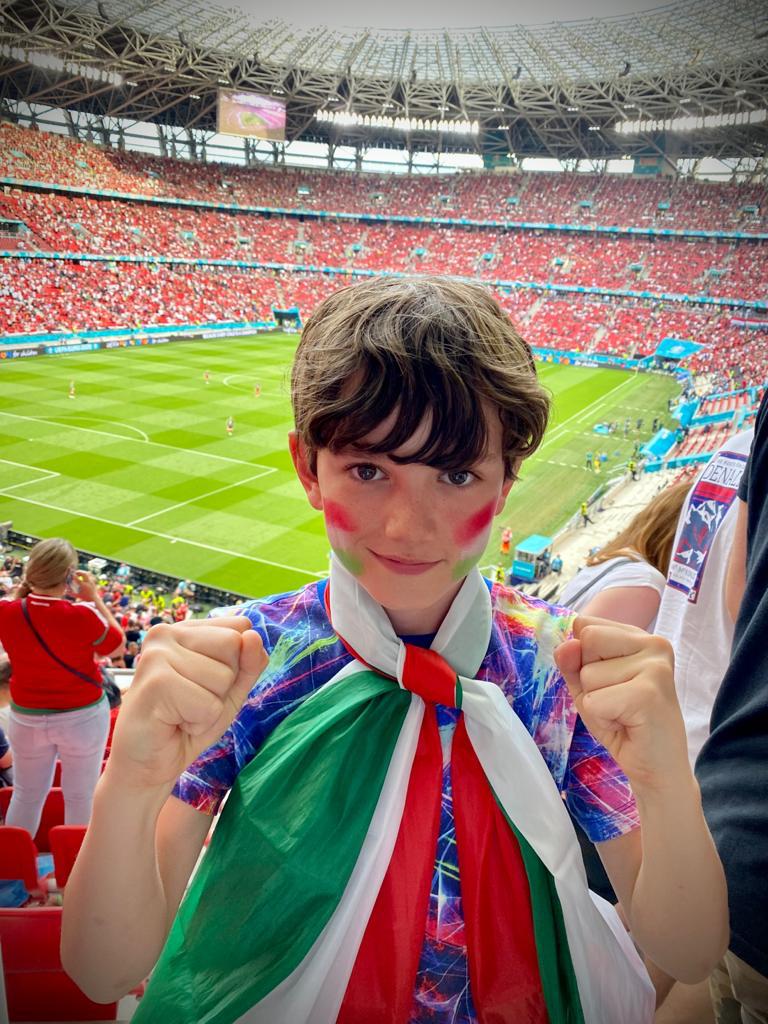 Anna Peter, 12 y.o., Hungary

Nowadays most of the young people have already got a modern mobile phone which is not
only used for making phone calls. They offer a lot of services e.g text messaging: SMS,
sending pictures, recording (sounds, videos), Internet access, etc.
All you need is an Internet connection, a Facebook/Instagram account and you can share your
experiences with your friends and acquaintances anytime anywhere. It's recommended to
upload high-quality photos on both sides, which you can turbo with filters.
Don't write too long texts with your posts. On the one hand, people won't read long introductions, on the other hand, a good photo says more than 1000 words.
Your Facebook posts can be highlighted with paid aids. However, on Instagram so-called
#hashtags play a key role. It's not advisable to share your posts more than once or 2 times a day.
Be careful. Don't log in to your community account from someone else's device. You'd better share your experiences when you get home.
Not only our phones should be smart, but we should also use them wisely!
Frederikke Bjørn-Døssing, 14 y.o., Denmark
As I see it at least three things are important if you want to do good live coverage from a stadium. First of all, you need to be situated at a good site at the stadium. A good view is important. Secondly, you need to have a mobile phone of a certain quality, and a good internet connection so pictures and sound are good. Thirdly you need to be able to distance yourself a bit emotionally from the game. It is very difficult to do a good job reporting if your emotions and feeling are all over the place. You need to be able to focus and stay calm.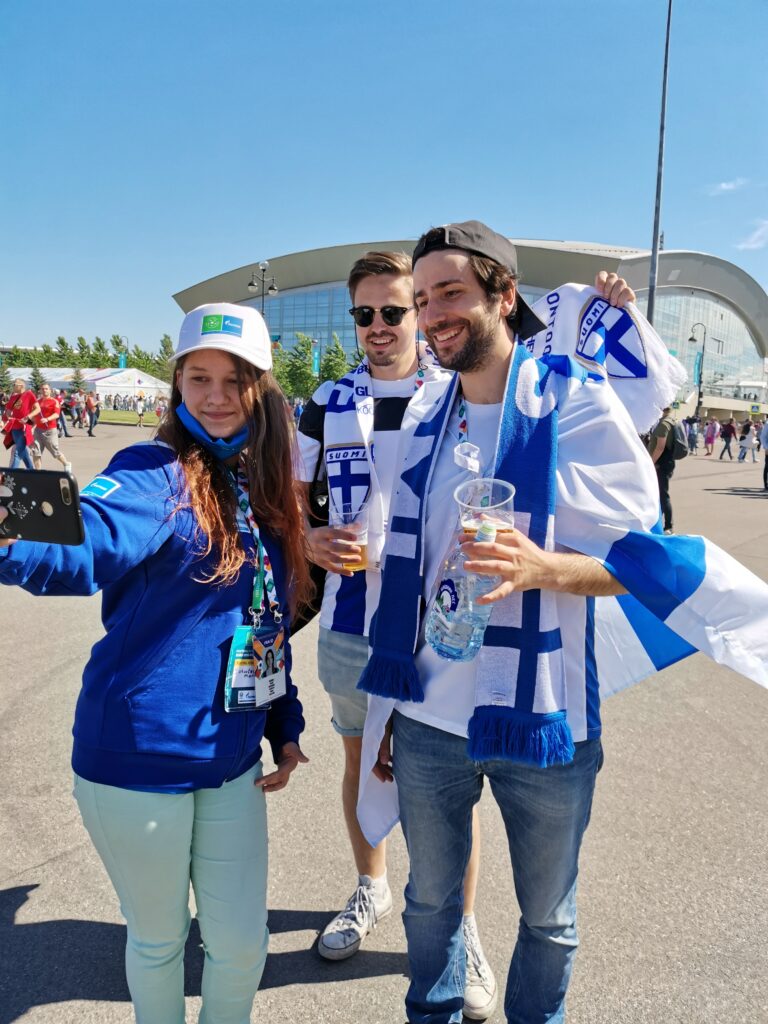 Nitya Khandelwal, 14 y.o., Denmark
Today, with the internet literally at our fingertips, using mobile devices has become a way to convey journalistic topics. This can come in examples of mobile videos, pictures, and live streams on social media like Instagram, Tiktok, and Facebook. With such a large audience available and the popularity of social media increasing, the usage of mobile journalism also continues to grow. Below are a few tips to help create and edit your content to make it perfect:
Shoot in Landscape: even though we tend to hold our phone in portrait mode, by shooting in the landscape you will take an image at a larger angle covering more frames. This will make it easier for the viewer to see and make your picture more professional.
Use the Grid Composition to Follow the Rule Of Thirds (for iPhone users): every iPhone has a 'Grid Composition' for its Camera app. This option helps you line up photos so that they follow the 'Rule of Thirds'. What is the Rule of Third you ask? The Rule of Thirds is a basic technique that divides your frame into an equal, three-by-three grid with two horizontal lines and two vertical lines that intersect at four points, –when you turn on the Grid option, you will see that the grid follows this division of frame–. The Rule of Third is made to create a pleasing and aesthetic composition where you place your subject of the left-third or right-third column in the grid. You can turn on your Grid composition by going to settings-camera and swiping right on the 'Grid' option.
Use the Editing Tools Provided on your Phone to Edit: on your phone when you go to view a photo taken, you get an option to edit it. Many think that these tools are not necessary and end up downloading another app just to edit. In fact, these tools can be proven to be very useful for the aesthetics of a picture
Alex Watson, 12 y.o., England

Technology is a key part of the modern world and it plays a very important part in journalism. Here is how I used technology to help me create my match report.
Voice Memos is one very helpful app I used. You can use it to record yourself speaking. It doesn't use nearly as much memory as a video app, as it only records your voice. I used it to record how I was feeling as I entered the stadium and to record the answers given by the people I interviewed. I could then listen to them later when I was writing the article. Another good thing about Voice Memos is that it is quicker and more efficient than typing. That said, it was pretty much impossible to record anything during the match itself due to the sheer magnitude of the noise.
I also made extensive use of the Camera app on my phone during my trip to Wembley. Taking lots of pictures and videos really helped me capture the atmosphere in and around the stadium. It enabled me to relive the moments I had experienced and so to enhance the details of my report. However, one could argue that the Camera app is not as efficient as other apps as photos and videos use up a lot of the memory on a phone.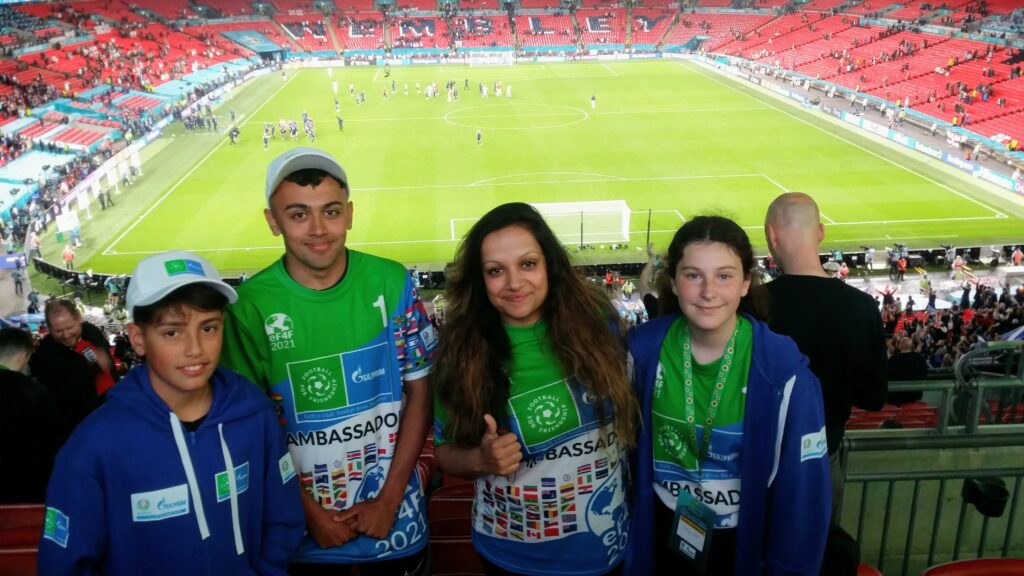 Roman Khoroshaev, 12 y.o., England
Life Hack 1: always stay up to date on the latest news. You should always do this because if you are writing a blog or writing for a newspaper, then you've got to have your smartphone with you to know if there has been a very important bit of news that you want to write about. This is essential because any breaking news could change your viewpoint on a situation.
Life Hack 2: always keep your favorite tools with you. Now, this is necessary for a mobile journalist and you have to have your smartphone with you to be able to note down things you've seen or read. Anything can happen in the world you want to write about, so you need your tools when you're in the city or everywhere. Your smartphone should contain a notes app, voice memos, social media, and a camera, the most important apps for a journalist. You should always have access to the Internet and keep your phone on as much battery percent as possible. This is why you should take a charger or power bank with you at all times.  Your phone is your secret weapon for reporting a match, this is because you can use it to make quick notes on quick chances or moments in the game and after the match, you can write a piece using those notes and turn them into proper sentences.
Life Hack 3: be creative. This is the principal one. If you are creative with your pieces, then people will want to read your blog or writing. The more ideas you have about how to put your mind onto the document with words, the better. One idea can be the spark that alights your career. So you should always try something different.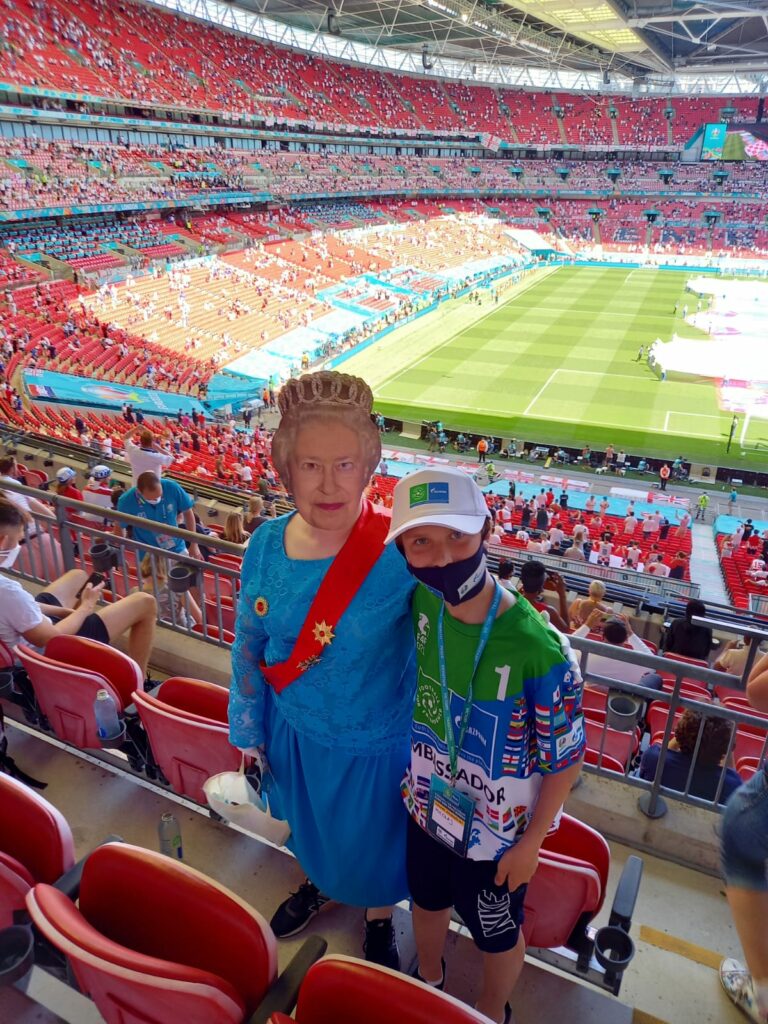 Justin Efosa, 13 y.o., Scotland
 Keep the light source behind you, if possible to have a good light on a subject. For extra stability, use a selfie stick or tuck your elbows into your body, with feet shoulder-width apart».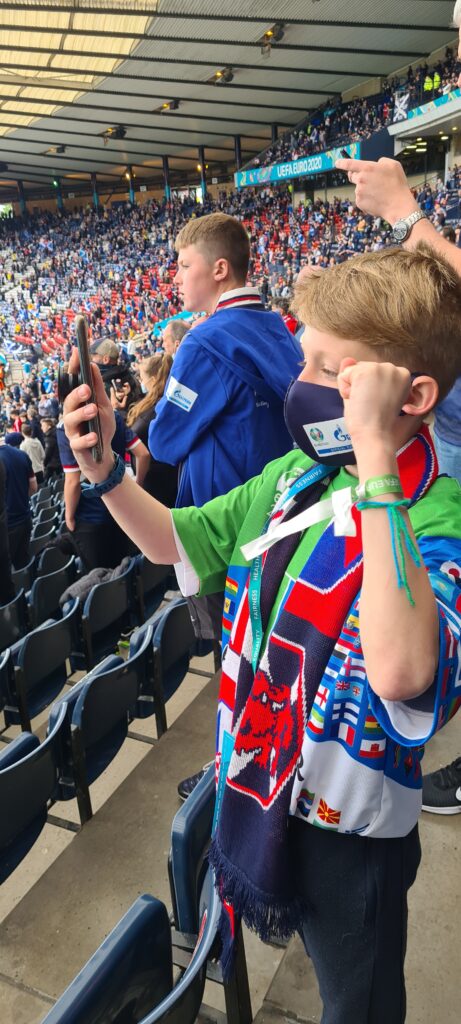 Callum Savage, 13 y.o., Scotland
First of all, think story, not tech – story must always come first. Don't get sucked into thinking tech over the story. Second important thing is to make a comprehensive plan in advance: be sure to plan your story in advance.
Kristina Von Barston, 14 y.o., Germany
There are some lifehacks I would like to share with you. The first is recording. The smartphone can be very helpful when you are interviewing someone because you can
record the conversation or make notes. If you have to write an article about it later, it can be really useful.
The second is the calendar. A smartphone is useful for better planning your day. You can enter your appointments in the calendar.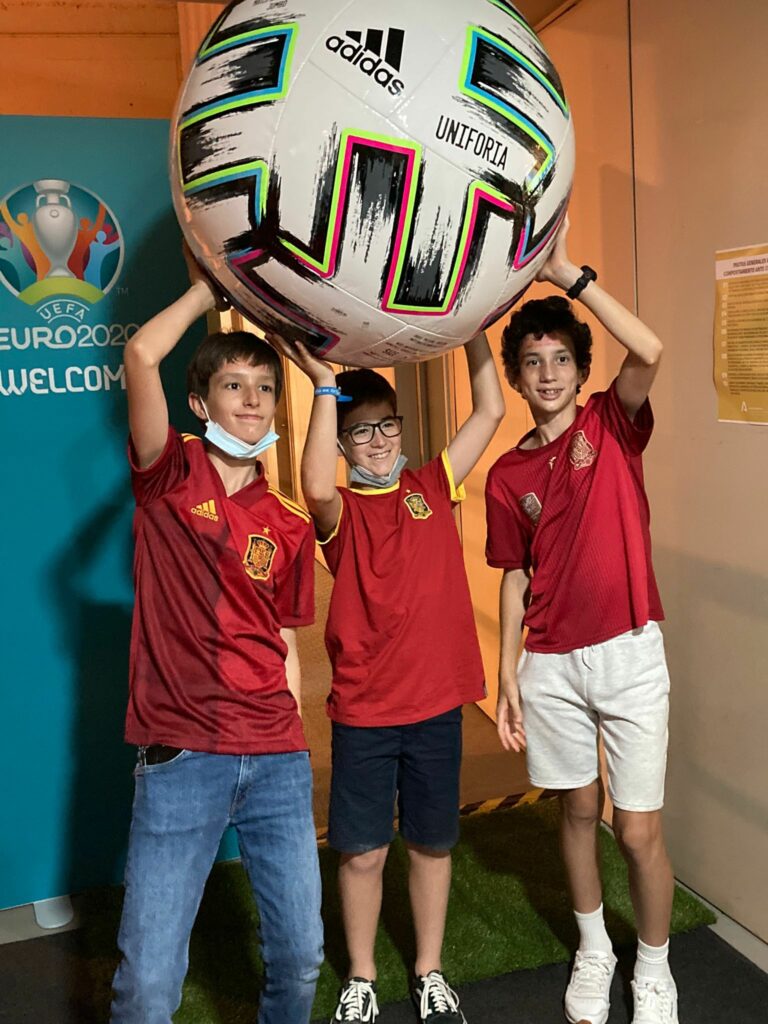 Armando Martínez, 13 y.o., Spain
First and most important is that you have to know what you are going to talk about: you mustn't talk about things that people don't care to read, you have to talk about the important things and you mustn't say the first thing that comes to your mind. You have to be concentrated.
When you are in the place you are going to talk about (like a football match), you have to see all the details that happen there. In this case, when you will write about that, the report will be more interesting.
Another tip is taking notes during the time that you are there. And the last tip is to take photos and videos of what you are going to talk about, so the report will be more entertaining and people will understand it better.
Amir Ashurov, 13 y.o., Russia
 In the profession of a mobile journalist, an abundance of material is very important, so in this article, I will try to disassemble life hacks to simplify the collection and increase the value of the material. First of all, a professional mobile journalist should have 2 phones.  One is for personal use, the other is for work.  This approach allows not to confuse materials from personal life with materials for work.
So, let's begin!
1. For more valuable photographic material, examine your phone's camera and its features. Keep your camera ready during the event where you want to get material. To do this, go to the camera application itself and turn off the phone. Thus, the device will be prepared for shooting.
2. Since using the phone camera in large quantities wastes battery power, it is better to carry an additional charging battery (Power-bank) with you.
But when buying an extra battery, be sure to compare its energy capacity to the battery capacity on your phone. It is desirable that the capacity of the Power-bank be two or more times larger than the volume of the telephone battery. This way the phone can be charged several times.
 3. You can use the Notes application on your phone to record the text portion of the material.
 4. If shooting in a crowded place, use a tripod for more accurate image stabilization.  If the place is noisy, then I recommend using a mobile microphone for a more accurate sound recording.
5. Always have a translator (Google, Yandex, etc.) in your phone in order to eliminate a possible language barrier between you and the interlocutor.
 Use these tips and your report will be great.
Uliana Kamkina, 13 y.o., Russia
There are situations in a journalist's life when something stunning is happening around, but he does not have any professional camera with him, and only smartphone is ready at hand.  It doesn't matter so much – the smartphone is not bad either! Now I will figure out some life hacks for mobile journalism.
If you have to take an interview, while your microphone was taken away from you at the stadium entrance, do not give up, because there is always a way out.  Turn on the voice recorder on your smartphone and bring it as close to the speaker as possible so that there would be less background noise.  Ask your friend to film you making an interview using his smartphone.  Afterwards, during editing, combine sound and video from two smartphones, and you will get a full interview of appropriate quality.  But if the sound turned out to be really bad – listen to it through and make the subtitles or, in extreme cases, make a text material!
If you need to proceed a photo reportage, but there is no special camera with you or its battery has run out – no problem! Take out your smartphone and get the angle you want.  Take a position in which the sun would shine from behind you, make sure that there is nothing unnecessary inside the frame – these are the simplest rules known to everybody.  If you are taking pictures of people, flowers, or trees, everything in the foreground – then use the "portrait" mode, it will take a close-up in excellent quality, and the background would be slightly blurred. This is one of the most convenient mobile camera modes.  Every actual smartphone has it, not only the iPhone.
Lacking a video cam is not the end of your journalist career. You can shoot a cool reportage using your phone. Find a suitable location and follow the next advice. Everybody has once faced a problem when the hands were shaking during shooting a video, so the video turned out to be of poor quality.  To avoid it, walk up to any object you can lean on and place your elbows on a firm surface.  If there is no such surface, it also can be solved. Press your elbows firmly against your torso and shoot the video standing in this pose. In extreme cases, you can even place your hands holding a smartphone on a friend's back or shoulders.  Those methods could be applied not only for filming but also for photographing.
Not every event is allowed to bring cameras to, as well as microphones and even a selfie stick without special permission. Using these life hacks, you can get by using the smartphone to shoot a reportage or interview. I have used all the methods, they are really helpful in such situations.